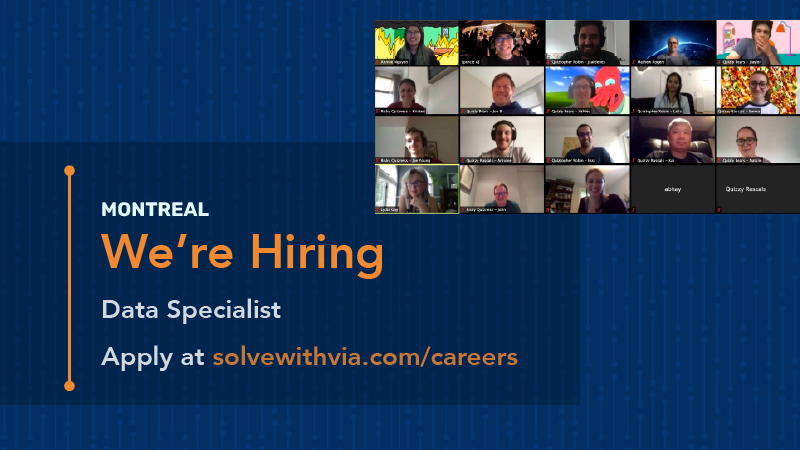 Location: Montreal, QC
Role: Data Specialist
VIA is making an impact, and so can you.
VIA is a leader in artificial intelligence and blockchain solutions and is going through explosive growth. We have grown 5x in the past 12 months and are set to double again this year. VIA works with the world's largest power companies to keep the lights on for millions of people across the globe. Now we need your help to make an even bigger difference.
As a Data Specialist at VIA, you will play a pivotal role in the growth of VIA's solutions by onboarding, cleaning, and harmonizing our customers' data. You will manage source documents to verify the accuracy of information, ensure data quality, and manage the incorporation of data into VIA work streams (database, modeling, and reporting decisions, to name a few). You will work closely with relevant teams at VIA including client delivery, data science and modeling, and product development.
This position will be a strong fit for someone who is ready to dive into understanding, refining, and implementing process improvements across VIA's data-driven solutions. If this sounds like the kind of impact you want to have, then you will find an engaging team and opportunity awaits you.
Responsibilities include:
Understand existing data ingestion and cleaning processes, as well as take responsibility for further refinement and implementation

Explore raw data sent by customers to get a better understanding of the different files, columns, and characteristics of the data (e.g., column averages, expected ranges, trends, standard deviations, etc.)

Understand customer needs, requirements, and make suggestions based on data

Work with VIA's client delivery team and the customer to validate assumptions and resolve issues with the data 

Own the ingestion of data into relational and/or non-relational databases standardized across customers, enabling data to connect to the rest of the data science pipeline

Leverage VIA libraries to ingest raw data from customers

Perform cleaning of raw data 

Coordinate with internal stakeholders when information is missing or discrepancies are found

Perform quality control, identifying errors or discrepancies in data using our Data Quality Tools 

Document assumptions and actions made during the data cleaning and harmonizing process to provide traceability

Contribute to the continual improvement of internal tools for data cleaning and harmonization by identifying key data-related challenges that are ideal candidates for automation
To be a high impact team member, you will have:
1-2 years of experience in a data-driven role or equivalent in data-related research projects

Bachelor's or Master's degree in science, computer science, mathematics, engineering, or a related field

Competence in the following technologies:

Database technologies (e.g., SQL, PostgreSQL)

Python, R, or equivalent programming with data science libraries (numpy, pandas etc.)

Experience working with big data, data streaming and pipelining, and ETL approaches

Passionate about data quality and detail-oriented

A self-starter attitude and demonstrated ability to learn new technologies quickly
To be a cultural fit, you will:
Be a critical thinker with a passion for solving complex problems alongside teammates

Have a desire to learn in a high energy, startup environment

Demonstrate strong attention to detail and apply follow-up and organizational skills

Be a great communicator with excellent interpersonal skills 

Be a part of a team that has the potential to transform the energy industry using groundbreaking technology and innovative solutions
What you will find at VIA:
Our approach to developing innovative solutions, commitment to continuous learning, and culture of celebrating our collective diversity, makes every day rewarding. In addition, joining VIA means you will receive:
Support and resources for your professional development 

Flexibility to maintain a balance between your passions inside and outside of work

First class benefits and equity offerings

Creative team events and virtual touch points
How to apply:
If you feel like you've found your next challenge in VIA, please fill out the form below!
We are an equal opportunity employer and value diversity at our company. We do not discriminate on the basis of race, religion, color, national origin, gender, sexual orientation, age, marital status, veteran status, or disability status.