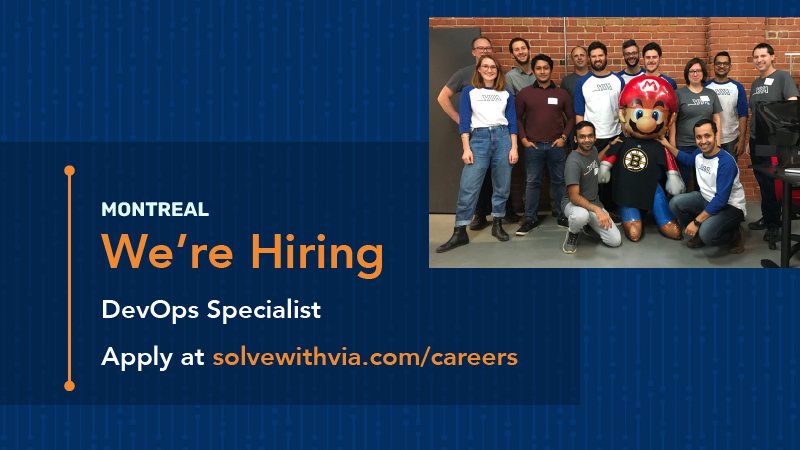 Location: Montreal, QC
Role: DevOps Specialist
VIA is making an impact, and so can you.
VIA works with the world's largest power companies to keep the lights on for millions of people using a combination of artificial intelligence and blockchain. And, we need your help to make an even bigger difference.
As the DevOps Specialist at VIA, you will play an integral role in the deployment, support, and security verification of our advanced analytics applications. You will own key components of our deployment pipeline and operational infrastructure, with a focus on packaging and deploying our software application on to virtualized customer environments (i.e. AWS, Azure, etc.).
Responsibilities include:
Enhance the deployment process through efficient automation by implementing up-to-date industry best practices

Set up and configure logging and monitoring frameworks across several products, teams, and customers

Support network security configuration

Optimize and secure system integration

Support internal deployment activities across multiple teams and products

Own and maintain the documentation for internal and customer deployment procedures

Secure applications powered by blockchain technologies and machine learning algorithms

Provide deployment and configuration troubleshooting support

Lead the deployment and integration of VIA software on our customers' cloud platform

Interact with key customer stakeholders to build an understanding of their technology, configuration, and documentation

Enhance and automate the setup process of VIA software on our customers' cloud platform in order to facilitate more efficient installations

Create deployment packaging and versioning pipeline to match customer integration needs
To be a high impact team member, you will have:
Bachelor's or master's degree in computer science, engineering, information systems, or a related degree

5+ years of relevant devops experience 

Experience with multiple cloud service providers (e.g. AWS, Azure, etc.)

Proficiency in application deployment (e.g., Ansible, Docker, Packer, OVA, Terraform), configuration and monitoring (e.g., System logs, Kibana, Graphite, etc.)

Must have a deep technical understanding of IT infrastructure integration, Unix/Linux, (DNS, DHCP, Active Directory, storage systems, firewalls, etc.), TCP/IP behavior, and application data flows between systems

Experience managing network infrastructure, protocols, troubleshooting, and security (firewalls, security groups, PEN testing, OS hardening)

Proficiency in Python and shell script languages

Strong interpersonal skills, the ability to work effectively with multiple stakeholders in different environments and "think on your feet"

Proven project and client management experience

Experience or interest in the following skills is also a plus:

Deployment of blockchain nodes (e.g., experience with configuration of Ethereum miners)

Application orchestration (e.g. Kubernetes, Docker swarm, etc.)
To be a cultural fit, you will:
Be a critical thinker with a passion for solving complex problems alongside teammates

Have a desire to learn in a high energy, startup environment

Demonstrate strong attention to detail and apply follow-up and organizational skills

Be a great communicator with excellent interpersonal skills 

Be a part of a team that has the potential to transform the energy industry using groundbreaking technology and innovative solutions
What you will find at VIA:
Our approach to developing innovative solutions, commitment to continuous learning, and culture of celebrating our collective diversity, makes every day rewarding. In addition, joining VIA means you will receive:
Support and resources for your professional development 

Flexibility to maintain balance between your passions inside and outside of work

First class benefits and equity offerings

Creative team events and in-office goodies
How to apply:
If you feel like you've found your next challenge in VIA, please fill out the form below!
We are an equal opportunity employer and value diversity at our company. We do not discriminate on the basis of race, religion, color, national origin, gender, sexual orientation, age, marital status, veteran status, or disability status.