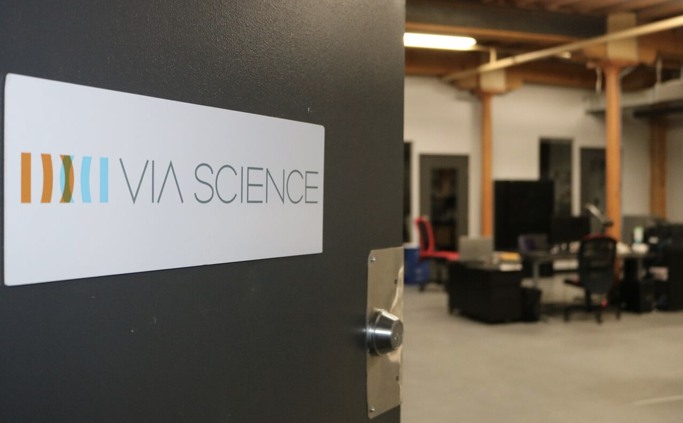 Last year, we interviewed our Montréal-based Data Scientists to share their insights about Via Science's company culture. Based on feedback we received from our readers, we decided to share a more technical look at the day-to-day of our data scientists. We spoke with two of the team's newest additions to discuss their experiences with Via Science's preferred technologies, diverse clients and projects and the overall learning environment.
By Via Science Marketing
What is it like to be a data scientist at Via Science?
"I get to work with really smart people from different backgrounds like software and computer engineering, theoretical statistics, bio-statistical analysis and particle physics. Even when we're not tackling the same problems, we discuss the pros and cons of different approaches, which I find very valuable."
"Not everyone has the same view on the best way to move forward with a problem. The benefit of having different views and experiences is that in the end, we find the best possible solution."
How is working on a team of data scientists for a data science company different than working as a data scientist at a company where that's not the core offering?
"The keyword here is team. My background is in a university setting, so I'm used to doing things on my own and not having a lot of interaction. Via Science is the exact opposite. If you have a problem, you just ask. 99% of the time someone has the answer and you can move forward together much faster instead of banging your head against a wall."
"Before joining Via Science, I was working as the only data scientist at a retail company. While one benefit of that environment was that I always got to do things my way, I wished there was someone else available to bounce ideas off of and make sure I was on the right path. You can learn how to do things by yourself and how to network outside your company, but at a certain point you feel like you're not developing anymore without a broader team to push you."
What has your experience been with Via Science's Agile office environment?
"The daily morning scrums are a great way to get a glimpse of what the rest of the company is doing across various client projects."
"The agile methodology allows us to reevaluate project progress regularly with daily scrums and biweekly company demos, so we have opportunities to try new approaches or take a different direction along the way. Our tools (e.g. maven projects, bit bucket, eclipse ide, junit tests) help keep each others' contributions and changes as seamless as possible. So, if the client wants to change something part way through the sprint, our tools allows us to refactor and test that code promptly."
If you could allocate a percentage around the tasks you spend your time on during any given week, what would that look like?
"With new clients and new projects, I spend about 30% of my time reviewing, cleaning and understanding the data – using R and Python to get a quick view. I spend another 20% building the project pipeline and thinking about how we get from the position we are currently in with the data to where the client needs us to be. I use Focus™ to explore the data and we use our daily Scrum meetings to review and plan with the team. I spend the rest of my time (about 50%) using Focus™ to get results, predictions and correlations, and on quality assurance and preparing the presentation."
"I spend about 80% of my time building pipelines, debugging code, creating tests to make sure we can rely on the results we get and adapting computing infrastructure like Java to meet the requirements at hand. I spend the remaining 20% analyzing data, looking at literature and improving my skills with various technologies."
How much of a typical day is spent doing something you already know vs. learning something new?
"I learn new things every day. When we tackle a new project, we have to ramp up quickly and learn any new technologies we might incorporate to our stack to achieve the best results for our clients. On any given project, I spend about 20% of my time learning these new technologies and about 80% of my time executing. That distribution can also change from project to project."
"90% of my work is focused on "new" things if you are referring to the content and framework for different projects. Even when I'm doing something I know, I'm still learning because every client has different data, criteria, expectations and goals. Even repeat clients want different things with each new project, so you have to think about doing the things you already know in new ways.
About 10% of my work is completely new in terms of tools and platforms. Recently, I needed to launch an AWS CFN cluster in the cloud for a client demo, which I had never done before. It turned out to be super complex, but I was able to work with Jeremy, our lead scientist, on it and got the outcome we needed for the project."
What is the learning environment like for new technologies, approaches and skills?
"Via Science encourages the exploration of new technologies and approaches. There is always an opportunity to learn something new and do something completely different from what we already know works. Also, if you just ask around, there will be people willing to help and you may learn something you wouldn't have learned otherwise."
"Everyone here is a lifelong learner. We try new technologies on a regular basis and decide if it makes sense to add to our stack. And it's ok not to know the answer and take time to figure it out. What's expected here is that people are up for the challenge."
What are the common software platforms or tools (in the technology stack) that you use most regularly at Via Science?
"We are proactive about investigating new and exciting technologies to see what works for us. We use the Java programming language as a workhorse, Javascript to create user interfaces, Docker to ensure reproducibility, and AWS infrastructure to avoid relying on mainframe computers and provide added value to clients. To improve day-to-day communication, we use Slack. It is a great communication tool that allows us to be efficient, well informed and find solutions."
"We use MongoDB to build schema, Ansible Playbooks to make sure every computer in a given cluster gets the same software versions and R to get a quick analysis of a new dataset. Python, Java, Spring framework, SciPy and Weka are some other tools we use for projects."
Was there anything else you would like to share with people interested in joining Via Science?
"It was great to interview at the office on a regular day for the team. I saw the team's interactions and got a feel for what the environment was like. I think prospective candidates should learn more about the technology stack to see what they already know, take time to explore things they don't know and decide if Via Science feels like the right fit."
"One thing that helped me quite a bit was knowing the basics of what Via Science does and that the REFS™ engine is based on Java. If you've done data science work before, you probably have a sense of it. The home assignment during the interview also helped because the data is what you'll see in real projects.
"Before officially joining, I did not know I would do so much non-data science work like using Spring framework, clusters and Javascript, but it keeps the neurons firing, and you keep researching and learning how to do new things. There are two distinct components of my job: applying knowledge I already have to different data structures and doing completely new things with data that I've never faced before in my life."
Any final thoughts?
"I think we embody Via Science's value of "never stop learning" and having fun while we do it. We work hard, but we have a good time and I think that's the key to work-life balance. We really hit the nail on the head with that one. It creates a very motivating atmosphere – it's easier to work hard and achieve results when you're surrounded by friends."
"Startups are about rolling up your sleeves and doing whatever comes your way."
https://www.solvewithvia.com/wp-content/uploads/2018/03/dayTOdayfordatascientist.png
454
683
Laura Montorio
/wp-content/uploads/2018/02/VIA-Logo-header-300x101.png
Laura Montorio
2016-09-15 15:19:03
2022-03-16 10:33:15
You Asked, We Answered: The Technical Day-to-Day for a Via Science Data Scientist