Transformer Tuesday: Adapting to Supply Chain Constraints using GDAC™
This is the second installment of our new blog series, "Transformer Tuesday," brought to you by VIA's Will Chapman. In this series, we'll address how leading utilities use VIA's GDAC™ solution to manage their substation transformers with greater ease, insight, and cost effectiveness.
---
Electric utilities are not immune to supply chain disruptions
The COVID-19 pandemic has interrupted supply chain networks, caused shortages, and created long lead times for just about everything, including essential products. 
For electric utilities, essential pieces of equipment like substation transformers have been subject to shortages and lead time delays as far out as two years, according to the U.S. Department of Energy.  
NRECA CEO Jim Matheson described the broader implications of the current circumstances: 
"Shortages of transformers pose a risk to normal electric grid operations as well as recovery efforts for systems disrupted by a natural disaster".
Supply chain disruptions are forcing utilities to defer both planned replacements of aging assets as well as new additions to increase grid capacity. Longer lead times for transformers and spare parts are making electric grids less resilient to unplanned outages. All together, these supply chain impacts increase the risks to electricity reliability, safety, and customer expectations for normal grid operations.
With transformer availability so unpredictable, utilities must have an accurate understanding of the condition of each transformer currently in its fleet in order to develop a customized strategy for maximizing each transformer's lifespan.
How do utilities estimate the lifespan of existing transformers?
Historically, substation transformers have been replaced as their life cycle ends. To determine the end of a transformer's life cycle, some utilities look at factors such as age, historical durability, and manufacturer.  
However, these factors alone don't always provide a complete picture to accurately forecast the lifespan. For example, what if an older transformer outlives a younger transformer that unexpectedly fails? What does this mean for replacement planning?
In these volatile times, it's vital to know the real health of these assets. The graphic below (from the GDAC™ member portal), shows that using age alone isn't a strong predictor of lifespan, but also that using GDAC™, members can:
Use new industry standards-based tools to accurately assess current condition, which may vary widely from what age or age-based averages might suggest
Leverage privacy-protected benchmarking against the data of other members and machine learning tools to confidently predict the remaining lifespan of each transformer individually and take into account different future operational scenarios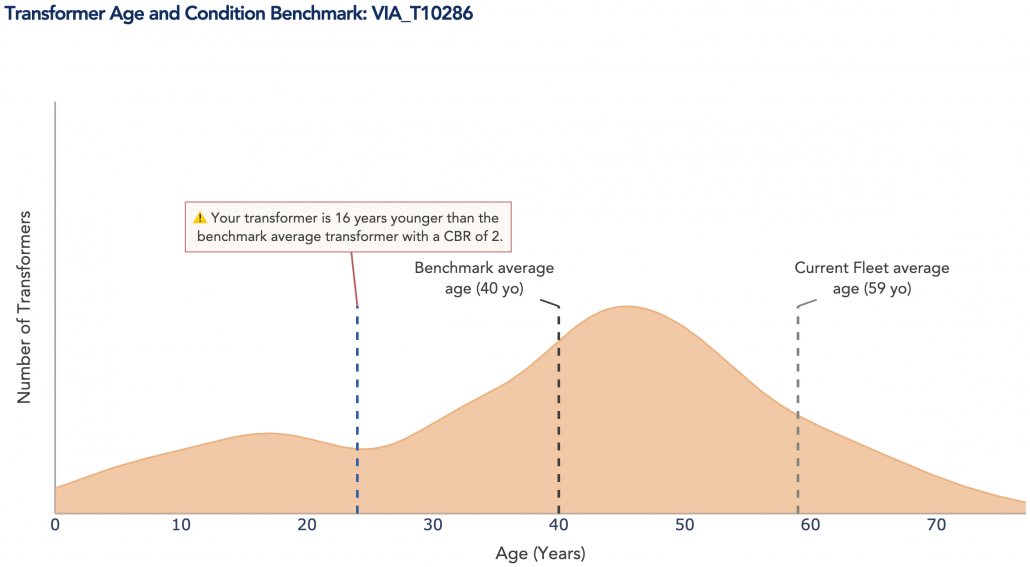 GDAC™'s Transformer Age and Condition Benchmark allows utilities to assess how individual transformers in their fleet compare to other utilities' in terms of typical age and the same Condition Based Rating (CBR).
Manage supply chain constraints using GDAC™
GDAC™ provides greater clarity on transformer health by:
Analyzing the

current health condition

of transformers

Predicting the future lifespan of individual transformers 3 years in advance and transformer fleets 10 years in advance

Identifying the contributing factor(s) for health condition changes in order to take the appropriate course of action to extend asset life
With GDAC™, utilities can better navigate transformer shortages and shipping delays by: 
Deferring replacements through maintenance work to improve transformer health condition

Preventing unanticipated transformer failures

Optimizing spares allocations in locations most needed
Curious to learn more? 
Connect with me on LinkedIn or email sales@solvewithvia.com to set up some time to chat and get a free analysis of which transformers you can extend the life of.
https://www.solvewithvia.com/wp-content/uploads/2022/06/GDAC-Transformer-Tuesday-2.jpg
627
1201
via
https://www.solvewithvia.com/wp-content/uploads/2018/02/VIA-Logo-header-300x101.png
via
2022-06-21 08:00:03
2022-08-05 06:31:46
Transformer Tuesday: Adapting to Supply Chain Constraints using GDAC™