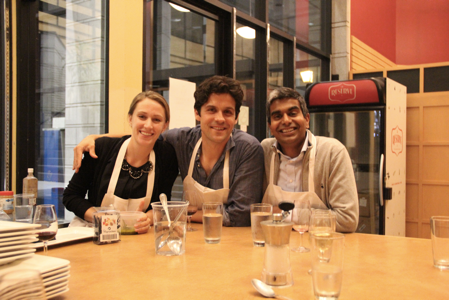 Twice a year, Via Science's Cambridge and Montreal teams come together to put two of our guiding values: "Be each other's biggest fan," and "Learning never goes out of style" into action.
By Via Science Marketing
Via Science is proud to have offices in two booming tech hubs: Cambridge, Massachusetts and Montreal, Quebec. Both locations are known for their cutting edge university research (e.g. MIT, Harvard, and McGill), global investments in innovative tech, and local iterations of international brands (like Google and Microsoft).
Despite the physical distance between locations, we remain close through daily communication between our Cambridge-based commercial team and our Montreal-based technical team. Drawing from agile methodology, we start each day with scrum: an opportunity for team members to share what they accomplished yesterday, what they will continue working on today, and any blockers for their progress. In addition, a flurry of Slack messages, Google Hangout meetings, and good old-fashioned phone calls allow us to stay up to date on client projects and product development.
However, nothing quite beats face time (and we mean the in-person type, Gen Zers!) when it comes to collaborating with colleagues to discover new solutions or ways of thinking. So, twice a year we get the whole company together for an offsite in Montreal to reconnect, reflect, and plan for the year ahead. Our next one is coming up later this month.
The goal of every Via Science offsite is, to quote the wise words of Winnie the Pooh, to "stop bumping for a moment" and think of a new way to come downstairs. Workdays can quickly fill up with tasks, challenges, and roadblocks that can make it hard to take a step back and consider the big picture: Why spend time developing this algorithm, or this blog post, or this customer memo?
Offsites strive to bring those daily tasks full circle by illustrating their impact across departments and on the company overall. Taking this time to reflect and consider the context of our individual projects allows us to discover more efficient and effective ways to move forward together. We use a new theme each offsite to position these reflections within the context of our larger objective for the year. Previous themes have included Focus, Expediency, and Learning Never Goes out of Style.
Individual presentations are one way we reflect as a team. Team members have the opportunity to share their expertise and progress, and hear from colleagues across departments on how their work has supported other projects. For example, during our most recent offsite last September, we were able to trace how one blog post from 2015 led to a key introduction and ultimately, the addition of one of Via Science's most valued partners. In fact, our technical team spent much of 2016 collaborating with this partner to develop a new application. While links between our roles isn't always obvious, this example underscores the importance of all departments working towards shared objectives and a shared vision.
In addition to providing a platform for team members to interact, offsites also create direct access to our CEO and his vision for the company. During Q&A sessions and retrospectives, Colin shares the strategic goals for the year ahead and how each team can support these goals. Team members have the opportunity to provide direct feedback that helps to shape the company vision.
Offsites aren't all work and no play, however. We make it a point to plan an inclusive, interactive activity in Greater Montreal, like bowling or cooking classes to build on the strong team bond reinforced throughout the day's presentations. Most recently, we enjoyed a cooking class at Académie Culinaire, pictured above.
Investing the time and resources of the entire company for a multi-day offsite may seem like a luxury for lean teams like ours. But, we firmly believe creating uninterrupted time to connect as a team and individuals is essential rather than luxury. Two of our guiding values are to "Be each other's biggest fan" and "Learning never goes out of style," and we put those in action through these opportunities to reflect, brainstorm, and learn as a whole team. Our people-first company culture shapes all that we do, and is not something we will lose sight of as we continue to grow.
https://www.solvewithvia.com/wp-content/uploads/2018/03/livingourvaluesoffsites.png
300
449
Laura Montorio
/wp-content/uploads/2018/02/VIA-Logo-header-300x101.png
Laura Montorio
2017-03-08 12:00:29
2022-03-16 10:32:33
Living Our Values: Via Science Offsites