Ann Davlin, Partnership Development & Commercialization at Constellation sat down with VIA for a conversation about the future of sustainability and climate solutions for VIA Visionaries interview series
Earlier this month, VIA hosted another thoughtful chat as part of our VIA Visionaries interview series. As we always mention in each interview recap, we're honored to have the opportunity to interview individuals who share the common mission with VIA of making our communities cleaner, safer, and more equitable. 
Throughout Ann Davlin's remarkable career, energy and climate have been a constant theme across investing, researching, and government. Given her passion for sustainability and climate solutions, we knew this was going to be an enlightening chat for our VIA Visionaries followers.
First, a little background on Ann: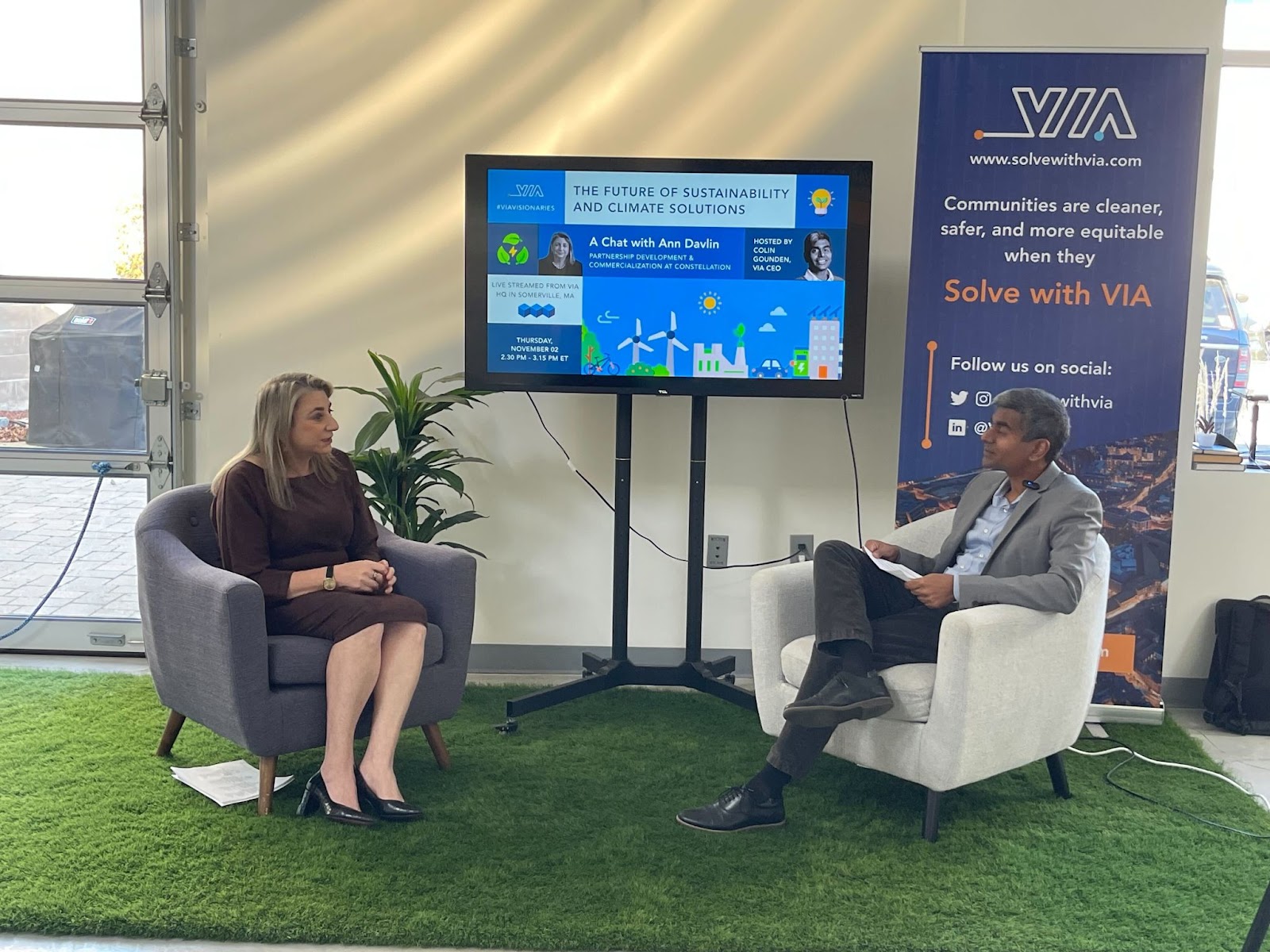 Ann's impressive career has spanned multiple sectors, including government, private equity, and sustainability-focused organizations. From fundraising for ocean protection and leading sustainable energy projects to government roles such as Special Assistant – Deputy Undersecretary, Environmental Security at the Office of the Secretary of Defense and various positions at The White House, Ann's versatility and profound ability to strategize across fields have made her an excellent leader in the energy space.
During the live-streamed 23-minute interview, VIA Visionaries audience members were treated to snippets of knowledge from Ann about her first-hand experience working in government and energy roles. Colin asked questions ranging from, "How important is sustainability and climate to defense?" to "Where does hydrogen fit in the climate solution landscape?" We have to say, though, you couldn't beat the response to the first question Colin asked.
Right off the bat, Ann shared with us the story about how she ended up in the White House as one of her first roles. As Colin put it, "While you're currently with Constellation Energy, you started with the White House – a place most people end their careers. Can you tell us more about your experience there?" We absolutely loved hearing her response:
"After college, I didn't really know what to do. I ended up in DC, my best friend had an extra room in a group house. I went to the Russell Senate Office Building to do an informational interview and ran into a friend I met over the years, Winston McGregor. She said, "Oh my god, my office is hiring!" So, I went and did an informational interview with Senator Ted Kennedy's office manager and then I walked over to Winston's office and I became a legislative associate for Al Gore doing environmental policy."
To hear the rest of her story as they both referred to as "serendipity," watch the video below! 
The line up of special guests for our VIA Visionaries exclusive interview series keeps growing! Next month, Maj. Gen. Kim Crider (ret.), former Chief Technology Innovation Officer for the United States Space Force and now founding partner of Elara Nova (a space consultancy company) will join us for a live-stream chat on Monday, December 4th. Be sure to follow VIA's website and social media (LinkedIn, X, Instagram, Threads) for the latest on this series and more!
https://www.solvewithvia.com/wp-content/uploads/2023/11/Ann-Davlin-blog-scaled.jpg
1340
2560
via
https://www.solvewithvia.com/wp-content/uploads/2018/02/VIA-Logo-header-300x101.png
via
2023-11-14 03:53:50
2023-11-15 09:39:01
Ann Davlin, Partnership Development & Commercialization at Constellation sat down with VIA for a conversation about the future of sustainability and climate solutions for VIA Visionaries interview series