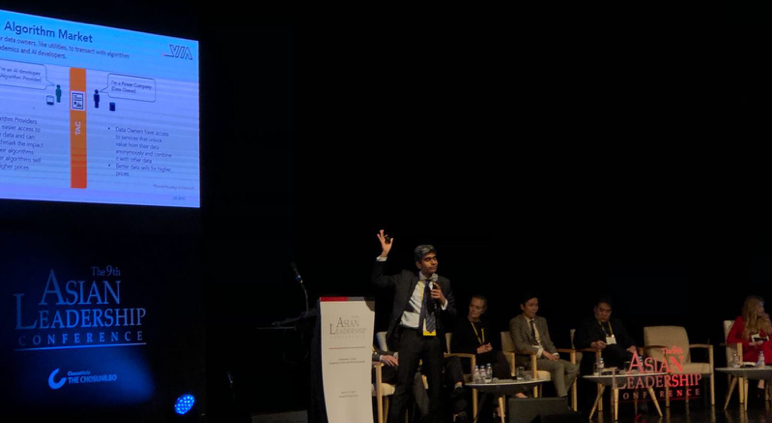 Colin Gounden Speaks at the 9th Asian Leadership Conference in Seoul, Korea
Colin Gounden was invited to speak at the 9th Asian Leadership Conference (ALC) in Seoul, Korea earlier this week. During the session titled "Blockchain in our Lives" Colin discussed VIA's blockchain application, Trusted Analytics Chain (TAC) and the benefits its smart contract functionality in particular, can have for the energy industry. The session also featured five other executives involved in the blockchain space, including Mike Kayamori, CEO of Quoine, Asia's largest ever ICO.
ALC is an annual international conference hosted by The Chosunilbo, one of the largest newspapers in Korea. The theme of this year's conference was "Globalization in Crisis: Navigating the World with New Opportunities" which featured speakers from all over the world, including former Vice President of the United States, Dick Cheney and Gerhard Schröder, former Chancellor of Germany, among others.
https://www.solvewithvia.com/wp-content/uploads/2018/05/Colin.Speaking.png
579
772
Annvie Nguyen
https://www.solvewithvia.com/wp-content/uploads/2018/02/VIA-Logo-header-300x101.png
Annvie Nguyen
2018-05-18 13:09:23
2022-03-16 10:27:18
Colin Gounden Speaks at the 9th Asian Leadership Conference in Seoul, Korea