War, weather, and waning infrastructure: The urgent need for community-led grid resiliency
To keep your lights on, the electric grid runs on one simple principle: power generation must be greater than power consumption. 
While simple in principle, this is a challenge in practice. Consider the following headlines from the past 30 days: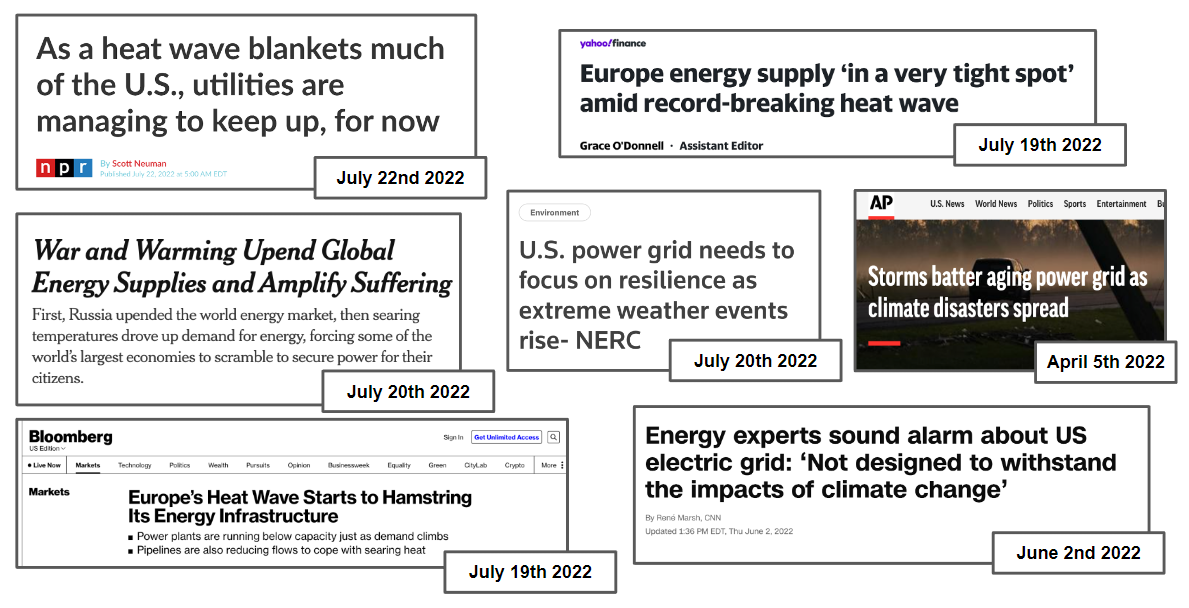 Power is experiencing a perfect storm that's impacting consumers the most (high prices and blackouts1). The challenges are global, although with regional variations.
In Europe, sanctions against Russia are limiting fuel supply that has led to fuel shortages, price spikes, and, worst of all, outages2. Compounding the supply issues is an aging generation and grid infrastructure. For example, France, normally self-sufficient or a net exporter of power, has 31 of its 57 nuclear power plants shut down due to unexpected maintenance3. This hits at a time when Europe and the U.S. are facing record heat waves4. As air conditioning is not as widespread in Europe, the bigger concern is that in a severe winter, when energy consumption generally doubles, outages will be even more widespread56.
In the U.S., sanctions against Russia have increased fuel prices but have not impacted supply directly. What's more problematic is that while solar and wind generation is on the rise, connecting the power to the grid is slow, sometimes taking over a year, due to regulatory reviews and backlogs or the lack of energy capacity7. An aging infrastructure is also struggling to keep up with electrification. This is already having an impact in both New York and Texas as heat waves in the U.S. have been record breaking in temperature and duration.
To solve for this, many utilities are engaging their customers directly. The idea is that when consumers lower their electricity usage, they keep demand lower than supply. While many traditional businesses have done everything in their power to build a direct relationship with their customers, most consumers only know their utility through their monthly bill and when the lights go out.
Similar to how the first generation internet helped improve customer engagement (e.g., email, online billing, order tracking), we see Web3 as a way to bring grid operators closer to their customers through direct engagement on the transparency and tracking of their electricity usage. Technologies like Zero-Knowledge Proofs, smart contracts, and tokens can help grid operators incentivize, coordinate, and track individual consumer usage while maintaining complete data privacy.
You'll have seen some of VIA's tech stack already demonstrate some of this functionality through our blogs. In the coming weeks, we'll be talking more about how VIA can provide a turn-key solution to power providers and grid operators.
https://www.solvewithvia.com/wp-content/uploads/2022/08/8.25-Urgent-need-graphic.jpg
2613
5000
via
https://www.solvewithvia.com/wp-content/uploads/2018/02/VIA-Logo-header-300x101.png
via
2022-08-25 08:00:36
2022-11-16 02:19:42
War, weather, and waning infrastructure: The urgent need for community-led grid resiliency