Let's TAC™ About It: The Value of TAC™
For the twelfth installment of our blog series, we will cover how utilities quantify the value of using TAC™. So, are you ready to TAC™ about it?
In our last Let's TAC™ About It post, we provided a few examples of customer use cases for TAC™.
A follow on question that we often get is, "how do you quantify the value of TAC™ in those use cases?" 
There are multiple ways to approach this, however the most common method is to compare what TAC™ is doing with "the next best alternative." For most customers, that would be custom building your own data privacy and analysis platform or integrating multiple packages from multiple vendors.
One of VIA's largest customers considered doing just this. They had evaluated more than 20 vendors and IT integration firms for their needs before we met them. This customer articulated these three big benefits when choosing TAC™ over their next best alternative:
Speed: Because TAC™ has a wide array of built-in features, they could count on being up and running much faster than custom applications. In this instance, other vendors estimated as much as a two year timeframe to build and test an IT platform for their needs. VIA was able to do this in less than four months from the time our contract was signed with them. Even better, within three weeks of using the new platform, they were able to make significant decisions including upgrading $10 million in equipment and planning an equipment replacement, which they estimate will save them $1.2 million per year.
Risk reduction:

Custom IT solutions and integration are infamous for delays, budget overruns, and not meeting specifications. Since TAC™ has already been tested and deployment is automated, timelines for future deployment are highly reliable. Prospective TAC™ customers can also see and test features in advance to help make configuration decisions.

Support: Because other customers are already using TAC™, VIA has a strong customer support team and process in place. In addition, upgrades and enhancements are rolled out roughly every month. These upgrades are for all users regardless of their implementation.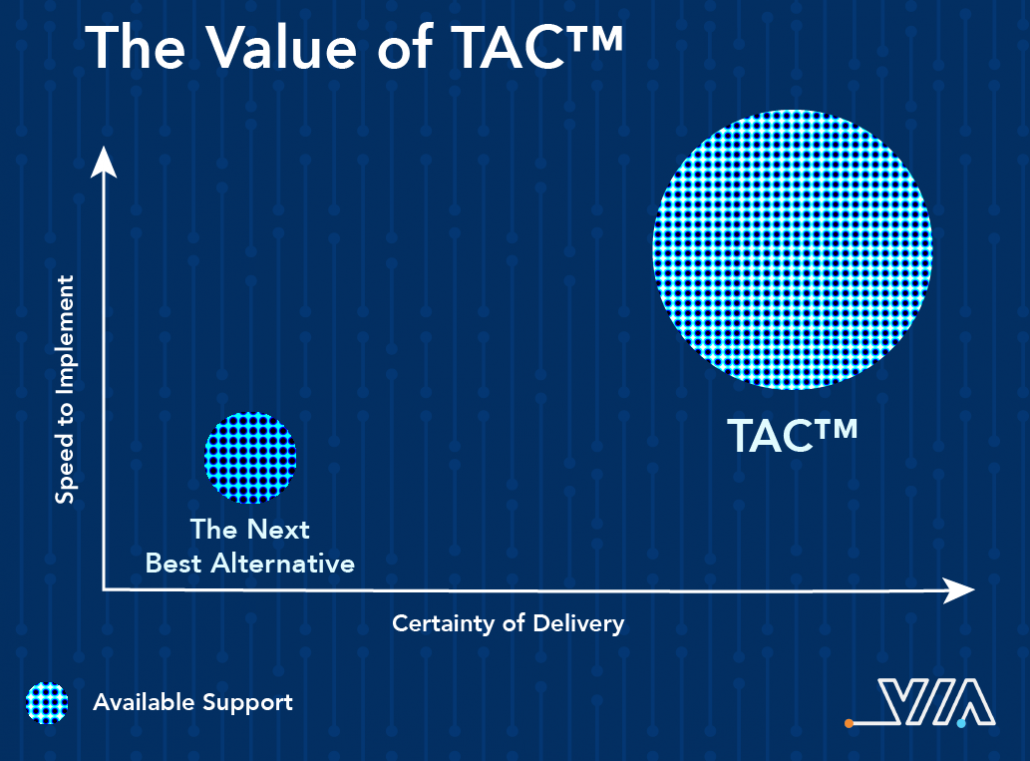 Interested in learning more? Write to info@solvewithvia.com for more details on the value of TAC™ for our customers.
https://www.solvewithvia.com/wp-content/uploads/2020/12/Lets-TAC-About-It-13.png
622
1438
via
https://www.solvewithvia.com/wp-content/uploads/2018/02/VIA-Logo-header-300x101.png
via
2020-12-10 14:05:46
2022-03-16 08:24:44
Let's TAC™ About It: The Value of TAC™