Meet the Team: Angelica Novoa, People and Operations Partner
We're back with a fan favorite: VIA's Meet the Team blog series! Through a Q&A-style interview, you will hear from our very own VIAneers about everything from a typical day at VIA to their favorite books, emojis, and activities outside the office. Now, let's meet 'em!
---
What does a typical day at VIA look like for you?
At VIA, my typical day is my ideal work day! I get to work with the most talented, thoughtful, and competent teammates while contributing to the goal of making sure VIA continues to be the best place to work. My daily tasks range from leading components of our VXP program to spending some time researching best-in-class ways to keep our hard working team motivated and happy. There are always lots of one-on-one meetings with VIAneers in between!
How has VIA's adoption of flexible work locations impacted your work-life harmony?
I have an elementary school-aged child and most of my family lives in South America, so work location flexibility has had a huge, positive impact on my life. I appreciate having the option of working from home or from our gorgeous office in downtown Montreal. In addition, I had the ability to work from my hometown during the summer this year. My friends could not believe my work not only allowed this, but encouraged it (I thought this practice was more widely spread). It made me even more proud to be working at VIA!
What's something you have worked on at VIA that you are most proud of?
I got the privilege of working with Emma, our VP, People and Operations and Kate, our COO on improvements to the VXP during my first couple of months here. I was able to contribute in a visual way to connect VIA's values and organizational principles to the robust processes and outcomes that are possible for any team member. More than pride, I feel honored and valued when I remember being given this opportunity to contribute to something that is so important to VIA's leadership and so meaningful to the entire team.
What's your favorite VIA memory?
There are SO many! No, really… It's hard to pick one. I would have to say last week's Power Up is a major highlight for me (pictures below!). The whole company got together in person for the first time in years. The energy was incredible! All of us at VIA are comfortable working virtually, but there is no doubt everyone enjoyed connecting with colleagues and having discussions about our vision and strategy in person. Because we have team members in locations around the world, many of us got to meet colleagues in person for the first time. It is great seeing the team energized as a result of this time together!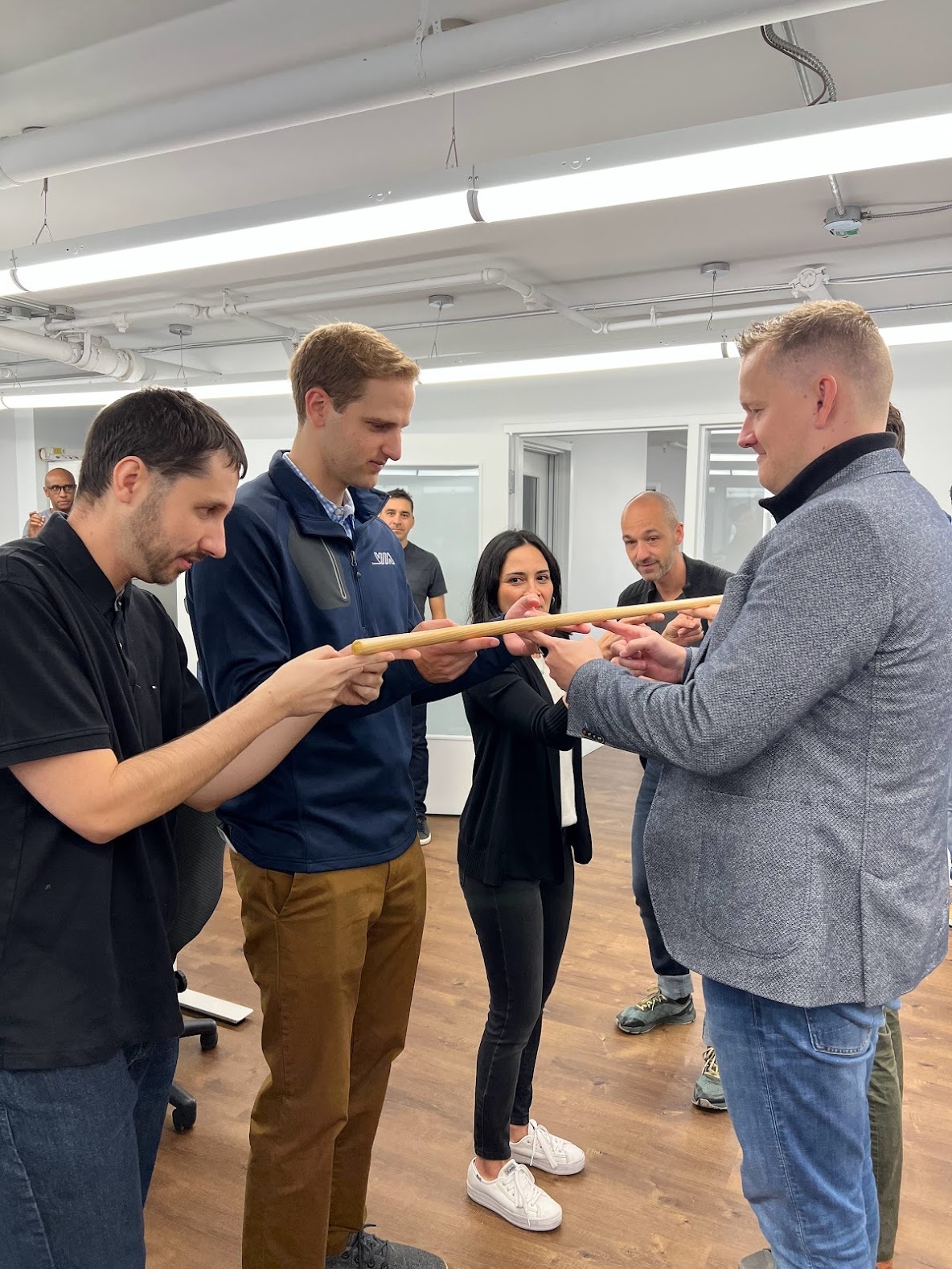 Using teamwork and collaboration to bring a stick down to the ground together without falling.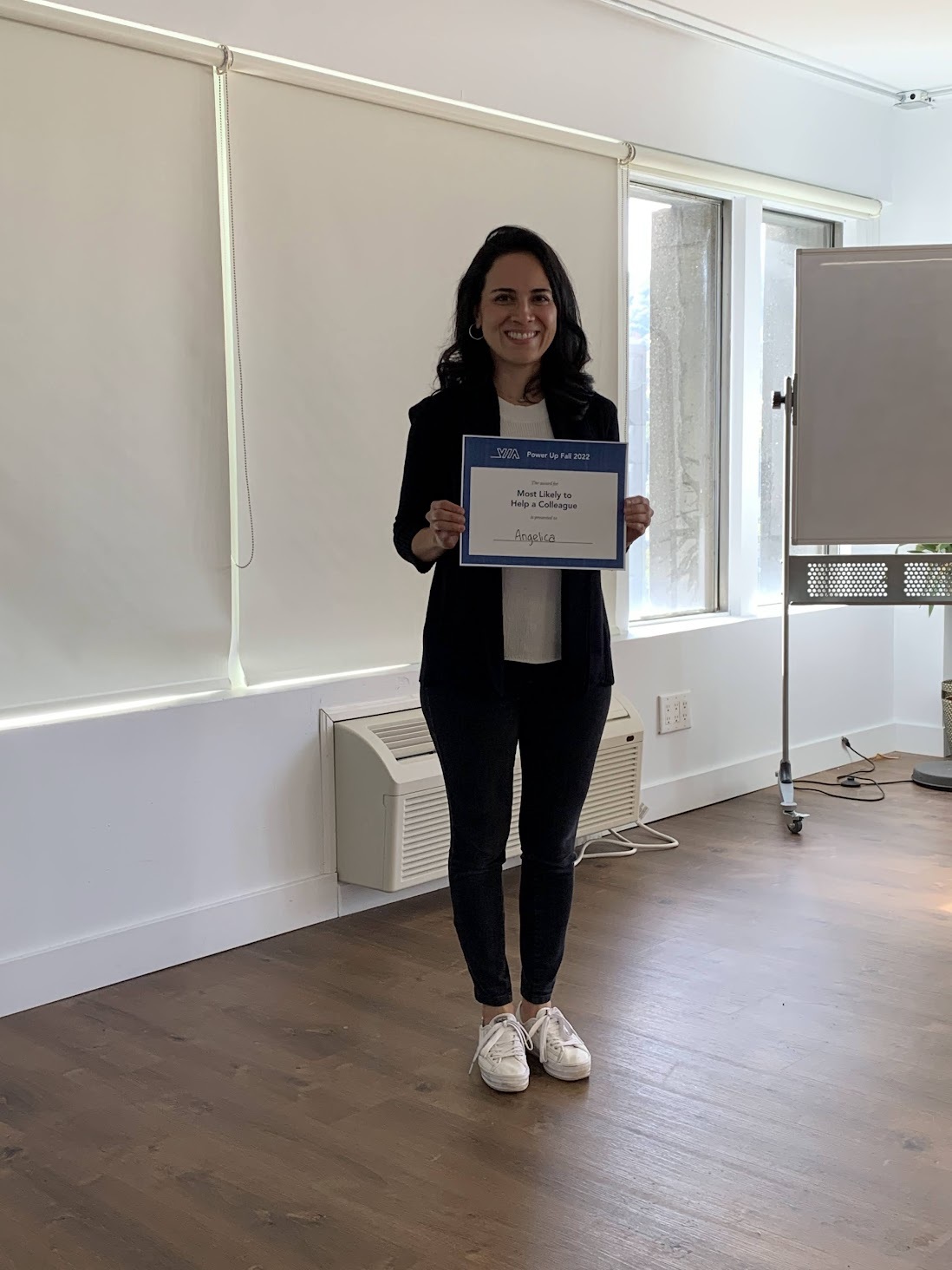 Being awarded "Most Likely to Help a Colleague" at the end of our Power Up.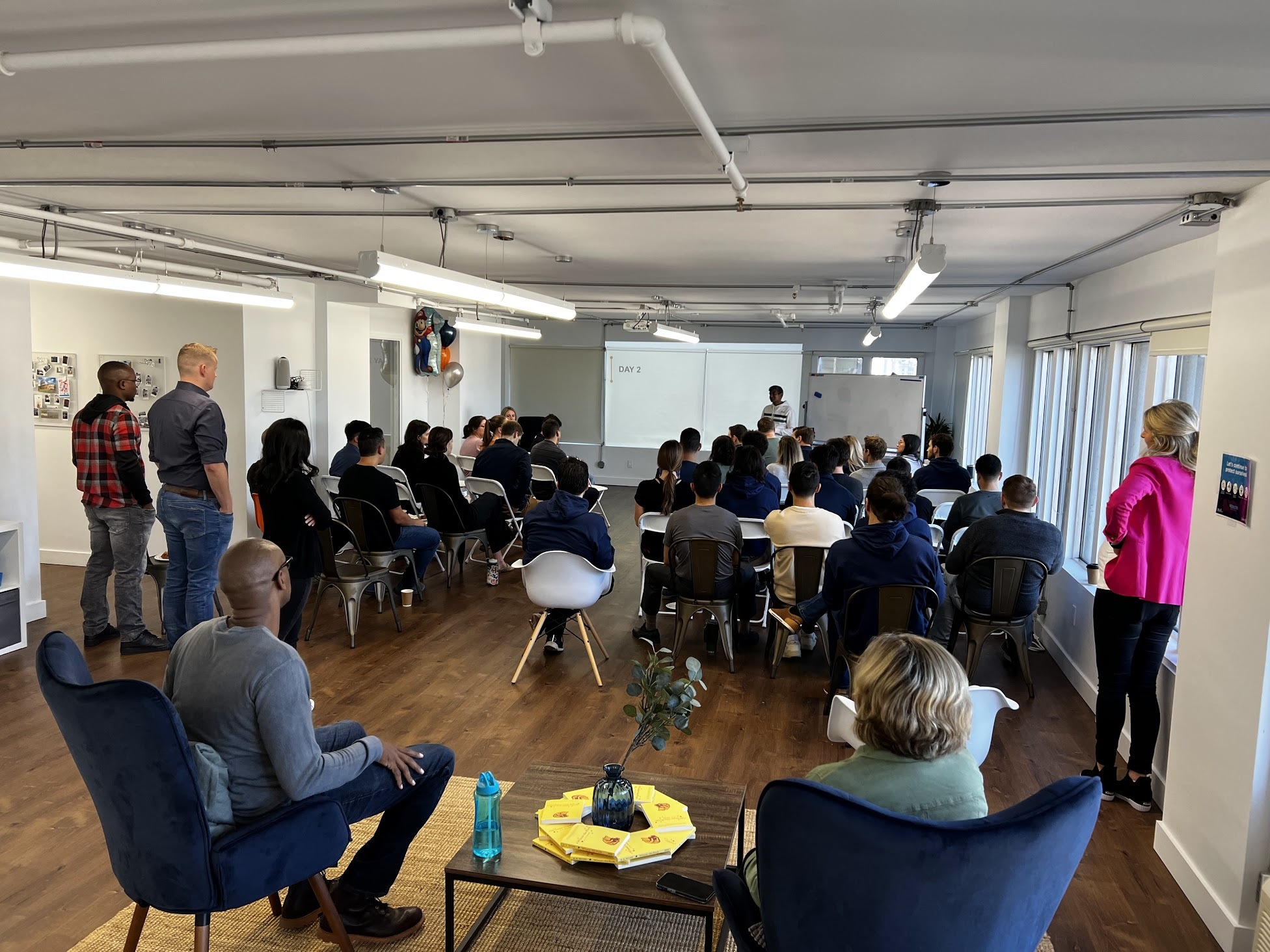 Our CEO Colin kicking off Day 2!
What's something everyone may not, but should know about working at VIA?
VIA exemplifies how businesses can drive positive social and environmental change! 
In your role, you work and collaborate closely with Colin (CEO), Kate (COO), and VIA product owners. What's that like?
It's one of my favorite things about working at VIA. It's an incredible opportunity to interact with not only founders, but key leadership on almost a daily basis. Working with such brilliant and kind individuals is the best professional challenge I've had in years. So much to learn from each and every one of them!
Why is our VXP program important to you?
VXP is important because it's the foundation for how VIA ensures that every VIAneer is getting what they need in order to do their best work and feel good about it.
Just for fun this time, what are your top favorite podcasts / books?
My top two favorite podcasts have to be No Stupid Questions and Coaching for Leaders. When it comes to books, I have to recommend the book Grit by Angela Duckworth.
What are your favorite emojis?
🥳 – 👏🏼 – 🙌🏻
---
Curious about what the VIAneer's Experience program includes? Apply here and find out more!
https://www.solvewithvia.com/wp-content/uploads/2022/10/Meet-the-team_Angelica.jpg
2617
5000
via
https://www.solvewithvia.com/wp-content/uploads/2018/02/VIA-Logo-header-300x101.png
via
2022-10-14 08:00:39
2022-10-14 08:18:56
Meet the Team: Angelica Novoa, People and Operations Partner