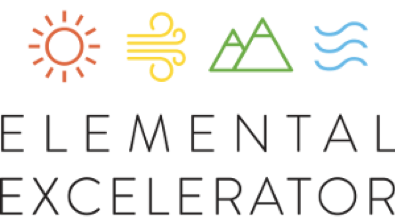 Via Science Accepted into Elemental Excelerator Program
Somerville, MA – October 19, 2017 – Via Science, Inc. today announced that they have been accepted into Elemental Excelerator's 2018 cohort. As part of the program's Demonstration Track, Via Science will receive up to $1M to further develop its new blockchain and distributed learning technology, alongside implementation partners.
"We're thrilled that Elemental Excelerator has accepted us into their program. With their support, we will work with three new transmission and distribution partners on the development of our application," said Colin Gounden, CEO of Via Science. "One of the biggest challenges when working with energy companies on AI initiatives is gaining access to sensitive data. Our blockchain technology will address these concerns by keeping data on premise and completely anonymous."
"This was our most competitive application season to date. 450 companies took the first step to apply and only 12 were selected," says Jill Sims, COO and Head of Innovation Deployment at Elemental Excelerator. "We saw a major trend in the application of machine learning and artificial intelligence to energy software. Elemental Excelerator is excited to have Via Science join our portfolio. We are looking forward to the long-term impact of their blockchain technology." With an acceptance rate of less than 3%, Elemental Excelerator works with their global network of investors and energy industry leaders to identify key technology gaps that remain in the sector.
Elemental Excelerator's global partners include Enel, National Grid, SK Gas, and several others. For more information, see their recent press release as well as an article published in Pacific Business News.
About Via Science
Via Science creates software applications that identify and prioritize risks to critical infrastructure using a combination of artificial intelligence, blockchain technology, and causal analytics. Headquartered in Somerville, Massachusetts, Via Science has developed its risk assessment algorithms in conjunction with some of the world's leading companies and government agencies in energy and security. The company has been featured in Wired Magazine, The Wall Street Journal, and Forbes for its expertise in causal analytics software applications. For more information, please visit www.viascience.com.
About Elemental Excelerator
Elemental Excelerator helps startups change the world, one community at a time. Each year, we find 12-15 companies that best fit our mission and fund each company up to $1 million to improve systems that impact people's lives: energy, water, agriculture, and transportation. To date, we have awarded over $22 million to 63 companies. What makes us unique? We co-fund, co-design, and co-develop projects and strategies that improve infrastructure and sustainably enhance communities. Our program is funded by a diverse coalition of utility partners, corporate partners, the U.S. Navy, the U.S. Department of Energy, state government, and philanthropic organizations. We are a non-profit created in collaboration with Emerson Collective. More information can be found at elementalexcelerator.com.
https://www.solvewithvia.com/wp-content/uploads/2018/03/EExPROGRAM.png
224
395
Laura Montorio
https://www.solvewithvia.com/wp-content/uploads/2018/02/VIA-Logo-header-300x101.png
Laura Montorio
2017-10-19 10:49:09
2023-05-02 00:24:39
Via Science Accepted into Elemental Excelerator Program